MOTHER'S PRIDE HAS ALWAYS EMPHASIZED ON MAKING LEARNING A FUN-FILLED EXPERIENCE FOR THE YOUNG PRIDEENS. WITH THIS OBJECTIVE, WE HAVE INTRODUCED A RANGE OF BOOKS THAT ENSURES THAT OUR PRIDEENS STAY ENGROSSED IN LEARNING, TILL THE VERY LAST PAGE.
CURRICULUM BOOKS:
Mother's Pride foundation, with its years of experience with small children is best positioned to know exactly how to combine learning with fun. Its publications are testimony to its expertise in introducing children to new ideas in a structured manner that progresses from the simple to the complex, gently expanding the child's mind to encompass more and more things about the world around them.
The curriculum books have been specially created and designed by our in-house team of experts who constantly undergo a vigorous research in child psychology and curate content that would captivate the children into a world of learning with meaningful creative ideas and new thoughts to stimulate their imagination. Our experts also know what the inquisitive minds need to learn and what exactly will appeal to them at this early stage of development. In terms of quality and values of production, the books by Mother's Pride are comparable to the best in the world. The endeavour is to create books that not only delight the children but also help parents and schools to develop the full potential of the child. The child-friendly, sensitive illustrations in all our books are exquisite. While, the topics covered are of great relevance to quench their thirst for knowledge about the world around them. As the level of learning goes higher, the books become more detailed and complex, but the design is such that knowledge is imparted adequately without burdening their minds in any way.
Find below, our curriculum books for different grades:
FOR PLAY GROUP & PRE-NURSERY:
MY FIRST BOOK OF FUN ( TERM 1 & 2)
At Mother's Pride, we believe that the first step children make towards learning should be a fascinating, magical experience. To hold their tiny little hands, to give them love and to take them on a fun-filled ride of learning with what we aim to do. 'My First Book of Fun' is filled with delightful activities and colourful illustrations, created to fuel the imagination of students. The content in the book has been designed as per a monthly theme in each term such as: 'Let's sing & Dance', 'Let's Play with Puppets', 'Exploring Imagination' and 'Yummy Food'.
MY WONDER BOOK OF ACTIVITIES ( TERM 1, 2 & 3)
This book has been created keeping in mind children's endless curiosity and imagination. It answers some of the questions that young minds have and encourages them to explore the world around them with a set of exciting activities and worksheets. In a fun-filled way, they are introduced to diverse basic concepts such as shapes, colours, numbers, space, time and temperature. However, the flow of the book is along a monthly theme such as: 'Myself', 'People Around Us', 'Cartoons' and 'Let's go out and explore'.

MY WONDER BOOK OF LETTERS
'My Wonder Book of Letters' is a perfect fun activity book designed for early learners to develop pencil control and motor skills. The children learn to identify, write and revise individual letters of English. By following the arrows and tracing the dotted lines, the little scholars can complete the tracing exercises and creative activities easily. This will lead to the development of their early writing skills. Fun activities are also conducted for the students during the 'Introduction to Letter' days to have a hands on experience about every specific letter and also phonetics. This book, however, is also an excellent first step to prepare for school.
TRACE WITH TRACY
Our smart little Tracy welcomes all the young minds to the world of Tracing! This book is specially curated for the students of Pre-Nursery who are still learning to control crayons and pencils and dwelling into the concept of perfect hand-eye coordination. The little fingers learn how to perfect tracing patterns, while having a great time! The highlight of this book is its colourful illustrations and wonderful characters that make the encounter with patterns and figures truly endearing.
FAIRYLAND OF LETTERS & NUMBERS
At Mother's Pride, we love to be the cupid and make our Prideens fall in love with the magic of letters and numbers. We believe in moving ahead of the conventional methods of teaching letters & numbers and allow our children to freely learn through imagination. Instead of following the sequential 'A to Z' or '1 to 10' method of learning, this book acts as a fresh breath of air which fills the language and mathematical classrooms with wonder, joy and excitement of learning.
LOOKING GLASS
For children, everything is new! Their enquiring minds look out at the world and strive to comprehend it. This book is truly a 'Looking Glass' which helps children understand their surroundings. Concrete concepts such as 'Home','Family', and 'Our Helpers' as well as abstract concepts such as 'Seasons', 'Festivals' and 'Good Manners' are put across in a lucid, easy-to-understand manner. This book is also of invaluable assistance to both teachers and parents in helping them introduce to young learners the basic concepts of everyday living in our modern world.
JINGLE RHYMES
This book of rhymes attempts to provide an aid towards the best all-round development of children upto four years of age. It contains a selection of rhymes which were sifted through thousands of rhymes that ensure lucid comprehension and an ideal mix of learning with fun. With these rhymes, we also actively involve the children in 'playing' and 'enacting' through which their memory is built in an interesting way. The rhymes such as: 'Who Likes Cuddles?', 'The Elephant', 'The Wheels of The Bus' and 'Good Manners' teach the concepts to students in the best way. The jingling and tinkling quality of these rhymes makes singing and enatic a fun-filled exercise. This book is also highly adaptable for group activities.
KILKARI
Kilkari is not just a book, it is a celebration of childhood perfectly put in words. The honourable Chairperson of Mother's Pride, Mrs.Sudha Gupta, has curated a book which has set a benchmark in the preschool education industry. A lot of schools in Delhi have also adopted this book as a part of their curriculum. Through a collection of rhymes and poems, we aim to give a direction to the curious minds as they fetch answers to their little questions. The medium of singing is one of the most interesting ways to teach students simplest of concepts and Kilkari fosters this in the perfect way along with taking their learning to new heights.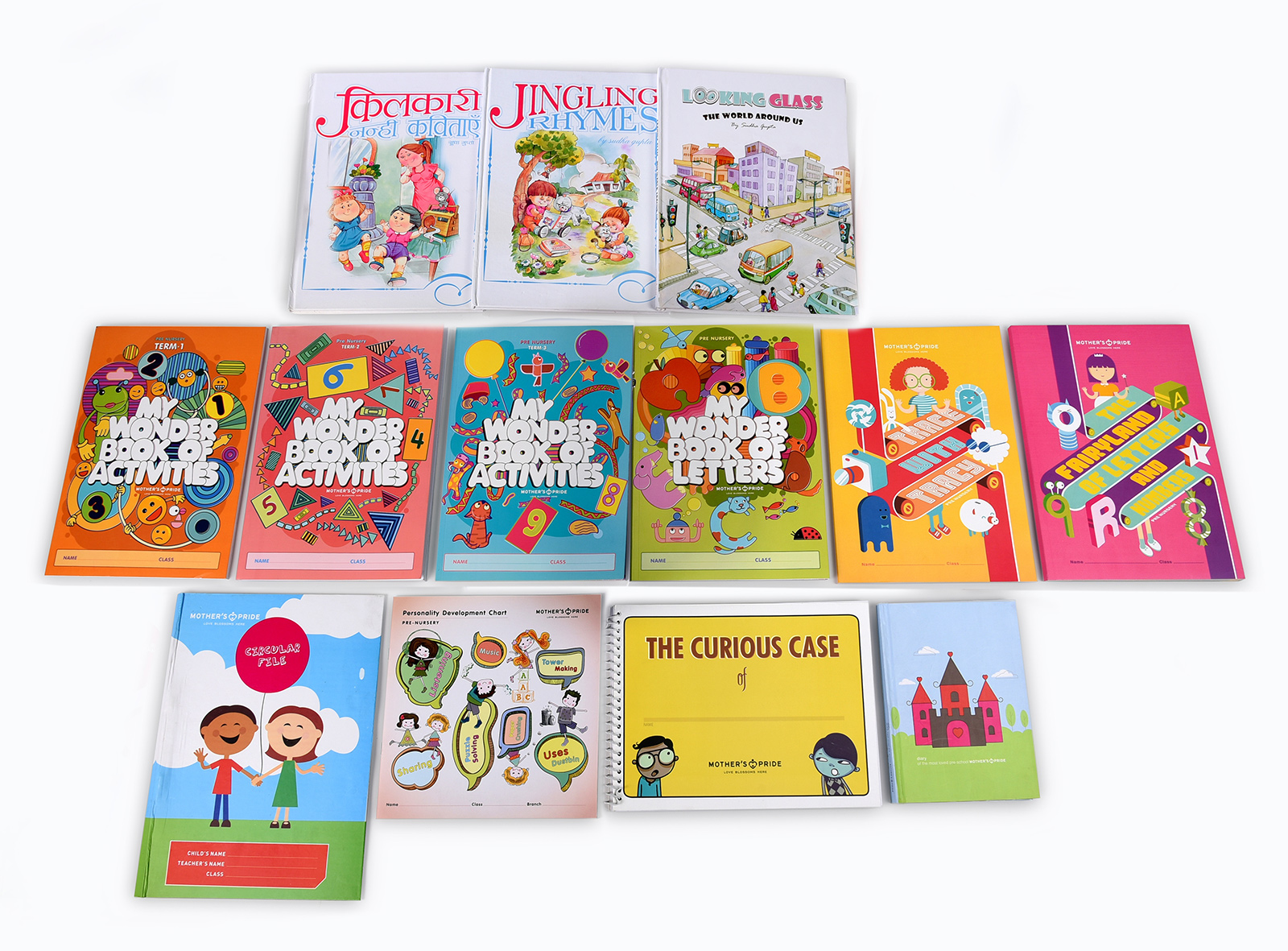 THE PLEASURE OF ENGLISH AND THE ALPHABET BOOK ( TERM 1, 2 & 3)
In Nursery, children learn about lower case letters and their sounds. They also learn that what they speak and listen to, could be read and written. On the other hand, during Prep, the children finally develop the skill to read simple texts, learn uppercase letters and blend them to make words. This book contains various meaningful contexts and developmentally appropriate activities for the young learners. The integration of both provides them a seamless experience in order to develop children's listening, speaking, reading and writing skills.
THE MAGIC OF MATHEMATICS ( TERM 1, 2 & 3)
Mathematics curriculum is not just about numbers and number related concepts. It also includes other non-number concepts such as patterns, shapes, measurement, space, time, etc. The 'Magic of Mathematics' lays the foundation of formal mathematics including skills to be learnt during pre-primary years. It also consists of activities that provide a scope for the physical, socio-emotional and cognitive development of children. The main contents of this book for Nursery students include: Pre-Number Concepts such as Sorting & Seriation, Shapes & Spatial skills such as Big-Small & Near-Far and lastly, an introduction to numbers wherein they learn about quantity and how to quantify the numbers. While during Prep, the book imparts the knowledge of Grouping, Higher Number(Tens & Units) and Orders of Numbers(More, Less, In Between).
THE EXPERIENCE OF TBL (TERM 1, 2 & 3)
At Mother's Pride, a lot of focus is laid on Theme Based Learning. We follow diverse monthly themes which integrate concepts and skills from various subjects in coherent themes thereby provide a rich learning experience to the students. The themes are directly connected with the children's immediate surroundings. This book contains broad themes such as 'Play', 'Animals', etc, around which they sing, listen, talk, read, write, play and observe. Each task mentioned in the book has a specific objective which enhance the child's learning to a great extent.
GARDEN OF VERSES (TERM 1, 2 & 3) – FOR NURSERY
For children, everything they experience comes right out of a fairy-tale! They create their own world where their imaginations become reality. 'The Garden of Verses' is a magical learning book which offers the little dreamers of Nursery, a collection of hummable rhymes created by our in-house team of experts. This book introduces them to letters and the sound it them. They are taught letters not in a sequence but in clusters. The aim of every rhyme is to make the grouping of letters easy to understand and transcend the students into a wonderland where learning is meaningful & enjoyable.
KAVITA KE MOTI (VOLUME 1 & 2) – FOR PREP
Hindi letters are like little pearls which when string together in a thread, make a wonderful necklace of inspirational learning. 'Kavita Ke Moti' is yet another book specially curated for the students of grade Prep which contains a magical blend of hindi poems and stories such as: 'Shaam ki Sair', 'Abra ka Dabra', 'School ki Ghanti', etc. The mesmerising illustrations in the book allow the students to understand the mother tongue of India with ease. Through these interesting poems, the children learn the Hindi letters and understand the sound of it. This later helps them in developing words and sentences.
HINDI KA KARISHMA (VOLUME 1, 2 & 3)
Hindi is a language that children are exposed to in their homes before they enter preschool. They build a connect with this language through the sound of words while conversing with their parents. Through this book, the students are taken a step ahead in learning about Hindi in a formal way. They are introduced to the simple components of the Hindi 'Varnmala'. To introduce every hindi letter, a special poem is written so that they can learn while singing and enacting. For easy retention, we also make use of flash cards, stories, poems, and audio visual tools along with this book. This book helps them to understand the around them through the miracles of Hindi language and freely express their thoughts.
TEACHING – LEARNING MATERIAL
"I HEAR – I FORGET, I SEE – I REMEMBER,I DO – I UNDERSTAND" 
Preschool teaching aids play a vital role in the curriculum. They support, supplement and reinforce the learnings of our Prideens. These materials give a firsthand experience to children and help in effective implementation of an activity, making learning fun, relieving anxiety, fear, or boredom. Many teachings also act as games that provide a joyful learning experience to the children. At Mother's Pride, a plethora of in-house Teaching–Learning materials have been created by our team of experts, which supports the curriculum books in the best possible way.
OUR IN-HOUSE TEACHING LEARNING MATERIALS INCLUDE:
Phonic Card Box (English And Hindi)
Our phonic card boxes are an effective way to teach the little ones short vowels, beginning sounds and long vowels. This tool truly nurtures their letter-sound relationship.
Flashcards For All Concepts – Fruits, Vegetables, Animals, Birds
Children believe what they see. Thus, flashcards act as an important visual tool to introduce diverse concepts to them which could be related with their everyday surroundings. 
Story Cards
Story cards represent pictorial illustrations of the stories that teachers recite so that children can be transcended into that story through an audio visual medium.
Rhyme Posters
While introducing new concepts or even letters and numbers, we use posters with different rhymes on it to turn learning into a fun singing and dancing session. 
Picture Reading Cards
These cards are helpful when the children learn to combine letters, form words and connect them with an image. On these cards the image and the name of the object is mentioned which they can read out loud. 
Puzzles
Puzzles are the best teaching aids that facilitate problem solving. Every child loves puzzles and we love them too for their cognitive development! 
Tasting Kit 
Among the five senses, is the sense of taste. To achieve so, we have a special tasting kit with different items that they can easily recognise with their newly developing taste buds. 
Touch Trays/ Feeling Cards
To enhance their sense of touch, we provide them with touch trays which have different textures on it so that they can easily differentiate between smooth, rough, soft or silky textures. 
Seriation Tower
Seriation is yet another pre-number concept wherein the students have to make relative comparisons. Through the seriation tower, they arrange rings from big to small to learn this concept. 
Puppet Theatre
Children love puppets! According to them, puppets interact and recite stories! Well, why not? At our Puppet theatre, the children use different puppets and quirky voices to tell each other fun stories. 
Alphabet / Number Tree
The alphabet and number tree helps teachers in introducing letters and numbers to the children. The students are asked to place and identify letters or numbers from a respective 3D Tree toy. 
Self – Help Kit
A self help-kit includes elements like buttons, zips and velcro to help the students become more independent in doing their tasks. 
Wooden Abacus For Object Counting
What better way of learning mathematics than Abacus? Our baby abacus enables the children to count objects and develop pre-number skills. 
Zig Zag Spirals / Spiral Table These are small games that intrigue the little explorers. By playing with them, they improve hand eye coordination and develop control over their finger & wrist muscles. 
Jodo Gyan Blocks
The Jodo Gyan blocks develop a sense of numberness, counting and operations of numbers and searching for patterns in different ways of splitting a number.
Rangometry
Through 2-D shapes, the children learn to identify shapes and make beautiful rangoli patterns. This activity not only enhances cognitive development but also brings out their creative side. 
Akar Parivar 
This is a tool kit which provides different shapes to the students who have to build a sequence of them. This enables them to visualise and shapes in the objects around them.
Ganit Mala 
Through colourful beads and its ordering the Prideens learn the tens and units in numbers. This gives them a hand on mathematical experiences and enhances their mental arithmetic.